Page 1 2
Contents:

Krishna-Janmashtami-Celebrations
in Omkarananda Ashram Himalayas
on Saturday, 27th August 2005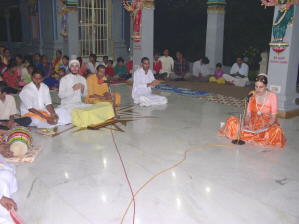 Bhajans by Shri Siddharthaji and
Kumari Somashekhari
This year Krishna-Janmashtami was again celebrated in all our temples, like Omkarananda Radha-Krishna Mandir, Dehradun Road, Rishikesh, Omkarananda Satya-Narayana Mandir, Lakshmanjhula, and other places. But in a specially grand way the Celebration was made in our most beautiful Omkarananda-Kamakshi-Devi Mandir, Muni-ki-reti. Within this temple-complex, in the shrine of Venkateshwara-Padmawati, a nicely decorated Jhula with Krishna-Gopalji inside was put in front of the Pranapratishtha-Murtis of Lord Vishnu and Divine Mother Lakshmi (Shri Venkateshwara-Padmawati) and special Pujas were performed there by our Ashram-Pandits. The whole temple-complex was decorated with shining lamps and fragrant flower garlands. In the dark the temple looked beautiful like a dream, or as from another world, a heavenly world.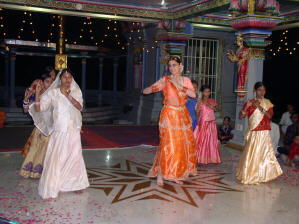 Dance by Kumari Somashekhari and Students
Many devotees and friends of the Ashram had assembled in the night to celebrate this holy event with us. There were Bhajan and Kirtan-recitals in honour of Lord Krishna by our Ashram-Pandits, by Shri Siddharthaji and Kumari Somashekhari. Shri Siddhartha Krishna and our new Ashramite, Shri Ghanshyam Dasji, both very talented Katha-Vachaks, inspired all assembled Devotees with
their speeches on Krishna-janmashtami and its meaning and value for our life.

Afterwards Kumari Somashekhari and her students gave 1' hours dance-performance in the Temple-Mandapa, with devotional dances, exclusively dedicated to Lord Krishna.

Swami Ghanshyam Das speaks on Lord Shri Krishna


Kumari Somashekhari in a dance pose in front of the Omkarananda-Kamakshi-Devi Mandir.


Prasad Vitaranam

The audience was carefully listening when Somashekhari explained the essential meanings of every dance.

After the colourful dance-performance the holy function was concluded with a special Arati in front of the Venkateshwara-Padmawati shrine, in which all devotees took part.

Then everybody was requested by Swami Vishweshwar-anandaji to enjoy the special Krishna-Janmashtami-Prasadam. Different delicious sweets and fruits were distributed to all devotees.
Among the special guests of this Celebration were former Rotary President, Rajeev Sharma, Dr. Sandhu and other Ashram friends. We also had many guests from our Neighbour Ashram, Yoga Niketan, who also brought with them some foreign devotees. Everybody was happy and grateful to get a glimpse of our beautiful divine Indian culture through this Krishna-Janmashtami-Celebration in Omkarananda Ashram Himalayas, and receive Lord Krishna's blessings.

Omkarananda Institute of
Management & Technology 7th Foundation Day
| | |
| --- | --- |
| OIMT Students performing Saraswati Vandana | Kumari Somashekhari addressing the students |
Omkarananda Institute of Management and Technology celebrated its 7th foundation day on 7th Sep 2005. All the students actively organized and participated in the various cultural and academic activities. Ms. Harjeet Kaur, a student of BCA, highlighted the infrastructural, academic and placement related achievements and accomplishments of previous years. Earlier His Holiness Swami Vishweshwaranandaji President, Omkarananda Trust, formally inaugurated the event by lighting the lamp and paying reverence to the Almighty. Swamiji showered his Blessings on the students and motivated students to take the stride forward in their career with wisdom, honesty and Divinity. Kumari Somashekhari, Hon. Secretary, Omkarananda Trust, told the students how to overcome adverse situations with the help of great spiritual Masters, like Sadgurudev Paramahamsa Omkarananda Saraswati. Mr. M.S. Negi, Secretary, OIMT, appreciated the students for organizing the event. He asked the students to conduct more and more activities because these activities assist students in their overall personality development. Dr. R.S. Rajwar, renowned academician, shared the experiences with the students of his meeting with His Holiness Swami Omkaranandaji. Mr. Arora, a business professional, shared his practical experience with students. He guided them to value the time and also suggested them to harness themselves for all the uncertainties of business. After this students of MBA I semester presented devotional and melodious Saraswati Vandana. Subsequently various folk dances and folk songs were presented by students from different courses. The stunning performance given by Kumari Somashekhari in the form of garhwali folk song became the attraction of the day. Mr. Pramod Uniyal, Ms. Indu Gaba, Ms. Bharti Sharma, Dr. Johari, Prof. A.K. Gosh, Mr. Satish Sharma, Mr. Narendra Pawar, Rajesh Manchanda and all other staff members attended the function. In the end of the event Mr. Pankaj Bijalwan gave special thanks to His Holiness Swami Vishweshwaranandaji for his incessant support for the development of the Institute.

Career Counselling Fair by Rotary Club, Rishikesh
On 11th Sept. 2005 Omkarananda Institute of Management and Technology participated in the Career Counselling Fair organized by Rotary Club, Rishikesh. The Institute received overwhelming response of the participating students and parents. The faculty members and students of OIMT provided personalized counselling to the students of various schools and the Colleges of Rishikesh and nearby region participating in the fair. The faculty members of the Institute informed students about the immense opportunities available for the students in the field of Management and Technology at Graduation and Post Graduation Level.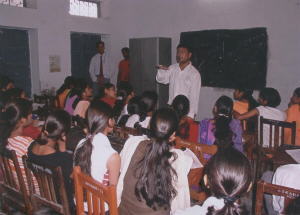 Mr. Pankaj Bijalwan gave tips and suggestion to the students for taking up the competitive exams. He asked students to "Dare to Dream" and told them that they can realize their dreams only by putting 100% honesty and commitment in preparation of the competitive exams. All the students were made aware about various competitive exams and their important dates for taking admission in Management and Technology Institutes. His Holiness Swami Vishweshwaranandaji, Km. Somashekhari and Mr. M.S. Negi visited the Rotary counselling fair to provide their blessings and motivation to all the participating students. His Holiness Swami Vishweshwarananda stated that OIMT is committed to participate in these kinds of activities, which can help the society in building a better nation. Mr. Pramod Uniyal, Ms. Indu Gaba and Mr. Narendra Panwar also took counselling sessions of the students. The students of the Institute also gave whole-hearted contribution for the successful completion of the counselling fair.