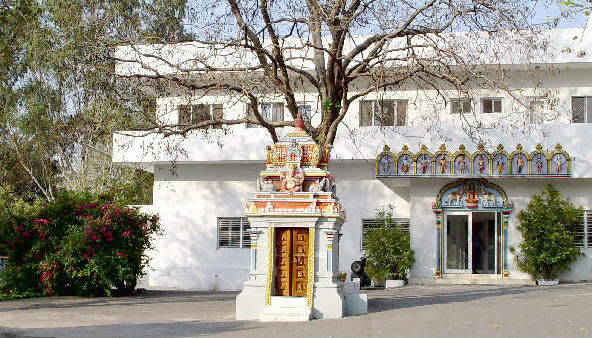 Omkarananda Ashram Himalayas
The first thing that would probably strike you is the silence that breaks deeply into your mind. It is tucked away from the humdrum of Rishikesh, nestling in the lap of the Himalayas, almost out of sight. And as it is out of sight, it is also untouched by the shades of worldliness. If you would rather think that life here would be a cloistered one, if not absolutely gray, then you must think again. That shade melts in the twilight when you enter this institution which has been reclining on the strength of the mighty Himalayas. Its uniqueness is that it offers everything to everyone, but not the commercialism that other institutions do. It has maintained that purity about which Swami Omkarananda so succinctly described, when he said:
"Purity is the soul of my strength. Truth is the source of my power. God is my life, and I have no existence apart from Him. His Consciousness is my Light. His all-sustaining and all-creative Beauty constitutes my joy. All humanity is my family. The Forces of Nature are my friends. The Godhead in all of you is the object of my adoration."
True to his words, this is one institution which is embracing deep spirituality. Not only that, it has been aiming and fulfilling its dream of establishing educational institutions, and spreading the cultural and spiritual message across the globe.
Omkarananda Ashram Himalayas in Rishikesh offers a remarkable way of uplifting the human mind from mere mundane level to probably the highest sanctuary that the Creator has made for man.
All these have been possible by the dedicated life of one man who has sacrificed his days and nights with the sole aim of tending the garden that Swami Omkarananda left behind. Swami Vishveshwar'ananda happens to be the pillar on which the idea that was formed many decades ago has now sprouted. As he has led his own private life of devotion, prayer and service to humanity, Swami Vishveshwarananda is like a Chief Mentor, seeing with caring eyes a child growing up into an adult. And as this child has grown, it has created a niche for itself.
"Purity is the soul of my strength. Truth is the source of my power. God is my life, and I have no existence apart from Him. His Consciousness is my Light. His all-sustaining and all-creative Beauty constitute my joy. All humanity is my family. The Forces of Nature are my friends. The Godhead in all of you is the object of my adoration." - Swami Omkarananda