Omkarananda Ashram Himalayas
The activities of the Great Mystic, Sage, Philosopher and Writer Shri Paramahamsa Omkarananda Saraswati embrace spiritual, cultural, educational, scientific and social fields. One of the significant achievements in these fields is the unique work he has done for the upliftment of the backward regions in the hills of the Himalayan Garhwal area. In recognition of his extraordinary services he has received several prestigious honours like Mother India Award, Bharat Nirman Award and Hind Rattan Award.
The Ashram at Rishikesh, set on one of the foot-hills of the Himalayas, is one of the main branches of his international Institution. It aims at the realisation of educational, social, cultural and spiritual projects. Omkarananda Ashram Himalayas carries on its activities through its registered Trusts - Omkarananda Dharma Samsthan, Omkarananda Charitable Trust, Omkarananda Educational Society, Omkarananda Natya Kala Academy and other educational and cultural Institutions.
Contact Information of Omkarananda Ashram Himalayas

Postal Address:

Omkarananda-Shanta-Durga Mandir,
Swami Omkarananda Saraswati Marg,
P.O. Shivanandanagar-249 192, Muni-ki-reti,
Via Rishikesh, Dist. Tehri Garhwal,
Uttarakhand, INDIA
Telephone Nos:
+91-135-2430713 / 2430911
E-Mails:
info@omkarananda-ashram.org / omkara@oah.in
Room Booking:
Omkarananda Ganga Sadan (Guesthouse / Dharmashala):
(at the Ganga, next to Ramjhula Taxi Stand, Muni-ki-reti)
Phones: +91-135-2430763 / 2431473 / +91-7300654448
Omkarananda Gita Sadan (Guesthouse / Dharmashala):
(at the Ganga, Muni-ki-reti)
Phones: +91-135-2436346 / 2436347
For location see map below: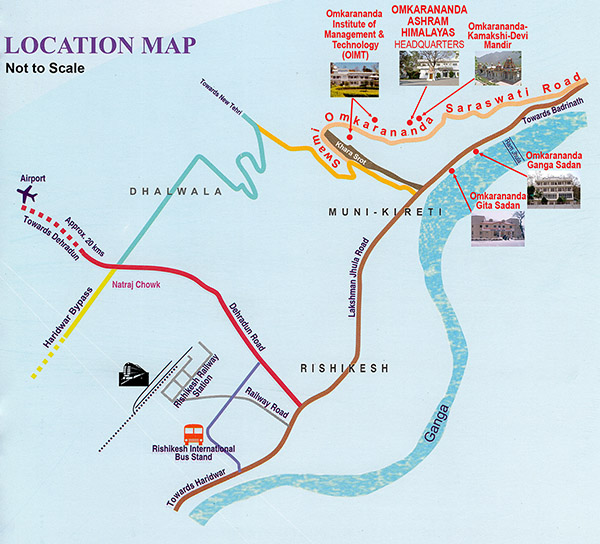 Click Image to Enlarge.